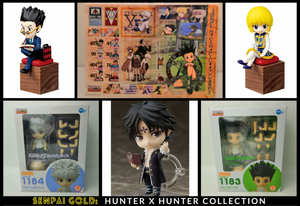 Available Hunter x Hunter Merchandise In Senpai Mart As Of December 2022
Hunter x Hunter (pronounced Hunter Hunter) is one of the most wanted anime and manga franchises worldwide. Despite the notorious indefinite breaks of the author, Yoshihiro Togashi, the support from fans did not waver. Now, HxH gets undying support from a wide spectrum of ages, as it began stealing hearts in 1998.
Amidst the hiatus, Hunter x Hunter merchandise and projects poured in. These releases hinted that the manga would be back, and we proved ourselves right!
Onto the HxH merchandise, it is amazing to see how their collectibles cost higher than the inventory of current mainstream shows. Wherever you look, the prices are stratospheric, but this could be due to their rarity and timelessness.
Senpai Mart collects Hunter x Hunter items, and our products come from our shelves. Unlike pre-pandemic times when we relied heavily on our suppliers, we're now bringing you handpicked collectors' items, stored, examined closely, and taken care of.
All of our HxH merchandise pieces are authentic and sourced from Japan.
As of December 2022, here are the available items:
Chrollo Lucilfer Nendoroid MISB, FREEing

Gon Freecss Nendoroid MISB, FREEing

Killua Zoldyck Nendoroid MIB, FREEing

Re-ment Pittori Collection: Leorio Paradinight

Re-ment Pittori Collection: Gon Freecss

Re-ment Pitorri Collection: Kurapika Kurta

Re-ment Pitorri Collection: Killua Zoldyck

Jumbo Cardass Hunter x Hunter License Sticker Set 1

Jumbo Cardass Hunter x Hunter License Sticker Set 4
We still have unlisted HxH collectibles, and we'll upload them as soon as we're ready to let go. You may also be interested in vintage items, so feel free to browse through the Senpai Gold vintage collection.
Stay tuned for more updates by following us on our social media channels or subscribing to our newsletter (see footer).
---