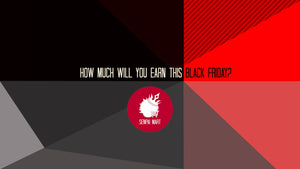 Black Friday for Senpai Mart Affiliates [7 TIPS]
It's that time of year again. Along with Thankgiving season comes an avalanche of sale events and marketing promotions. Apart from store owners, this is one of the most awaited season for affiliates.
A few days before Black Friday, online buyers would try their best to keep their credit cards and cash from doing its job. And it's all because the best discounts are coming out during that sale season. Discount coupons, vouchers, free gifts will appear everywhere in your Facebook and Instagram feed.
As such, many affiliates choose to be more active this season. They try to source the best deals and scatter their links in different places hoping that a customer would click and convert.
(Learn more on how to earn as an affiliate.)
Panicking already? While there are plenty of reasons why you should start working for promising BFCM commissions as early as today, everyone must still act according to plan. But to make you jump off that lazy, unthinking couch, we show below the remaining time you have.
Countdown timer for Black Friday
Countdown timer for Cyber Monday
Cram on!
So how much will you earn this Black Friday sale as a Senpai Mart Affiliate? Read on for some important tips.
How Much Will You Earn This Black Friday / Cyber Monday As A Senpai Mart Affiliate?
To answer this question, it depends on a lot of factors:
How much work will you do to market our items.
Your target audience.
The tools you will use.
The quality of your contents.
The products to sell.
Considering these factors will contribute a lot to the success of your campaign. Here are some tips that can give you some help.
Tip #1 - Use the Black Friday Landing Page
It may not directly lead customers to a product you're trying to see, but it leads them to a page where it gives them good reasons to purhcase during the BFCM event. Free gifts, more than 70% off, discounts on top of another - although overused, will still work.
Tip #2 - Target a Wider Audience
Business owners who use Facebook marketing tools were always eager to narrow down their audience to the hopes of reaching those who are interested enough and are capable of purchasing their items. However, Facebook removes advertisers' access to some of the best targeting options leaving many of us spending on bunch of ad tests.
According to some tests, it's better to keep a wider audience than to be unsure of the narrow ones. Moreover, ads aimed on bigger targets are easier and cheaper. As for affiliates who are mostly growing their pages organically through their content, all they need to do is to make every post working for them. Viral is the way to go.
Tip #3 - Mind the Audience Location
While a viral post can sway different population, your initial efforts should be poured into audiences in location that works — US, UK, Canada, France, Germany, and many more. Avoid sharing to groups with members coming from places without PayPal or lacks the ability to purchase using an online credit card. You should also keep this in mind as some products don't work on some location. For example, our Ice Windshield Cover may be good for places often experiencing harsh winter. Choosing a tropical market for a winter item would surely put your efforts in vain.
Tip #4 - Continue Growing A Facebook Group
A good marketer knows how to keep their business pages safe from the constantly changing Facebook algorith. But a better advertiser knows that it's much easier to control a Facebook group and enjoy faster growth and higher engagement. Continue to approve relevant visitors and keep the group alive.
Tip #5 - Zero Cost Rewards To Boost Engagement
Most affiliates don't have the budget for Facebook ads or sponsor an event. As such, you have to think of a zero-cost way on how you can boost engagement, grow your assets and possibly gain conversions. A perfect option is to make use of the Top Fans program or badges to motivate your active fans / members into engaging more. This encourages others to jump into the conversation leading to a healthy and fast-growing community.
Think you're ready to slay this Black Friday 2018? Wake up your market! Sign up to the Senpai Mart Affiliate Program now!
---