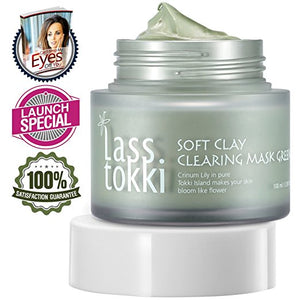 RECOMMENDED: Korean Exfoliating Mud Mask from Lasstokki
We endlessly scout different online shops and e-commerce sites such as Lazada, Amazon, eBay, and more to find amazing items. Not only because we want to sell these awesome stuff that we can find, but also, we would like to recommend those items to our customers. Especially those that we cannot sell through our channel for various reasons.
Our very first item on the recommendation list is this miracle exfoliating mud mask from Lasstokki. This is a Korean skin care product that promises a moisturized and blackhead-free complexion.
According to Lasstokki, the product includes a special ingredient from the Crinum lily, a rare and unique plant in Tokki island. This is used as traditional and natural remedy for dry skin and other unpleasant skin conditions. Moreover, Crinum Lily promotes calmness and adds moisture to the skin with its very mysterious power from nature.
It promises the following results:
Cleanses the skin without drying out.
Smooth and soft skin texture after continuous use.
Floral scent that brings relaxation and skin calmness.
Blackheads and whiteheads removal.
Balances oil without drying the skin.
Removes impurities, deeply cleanses, promoting a smooth, radiant skin.
Features Of Lasstokki Korean Mud Mask
#1 - AMAZON CLAY & MOROCCO GHASSOUL CLAY

Enriched with abundant minerals, the natural mud absorbs deep oil and impurities, refines skin's texture and pore, boosts radiance to restore a healthy glow.


#2 - WINTERGREEN & BEETROOT HYDRATES YOUR SKIN

Wintergreen contains nature salicylic acid, helping to balance oil secretion. Beetroot extract is enriched with β-Glucan, which is a superior material to provide skin nature moisturizing barrier from dryness.


#3 - WALNUT SHEEL POWDER WITH THE FRAGANCE OF CIRCUS AND JASMINE

The scrub gently exfoliates and cleans pores. Chamomile dew enhances the elasticity and brighten the dry, full skin.


#4 - JEJU SPRING WATER & CRINUM LILY EXTRACT

Crinum Lily serves calmness and moisturize the skin with its mysterious and precious value. With Ph 4.5 ~ 5.5 , Jeju Sparkling Thermal Water can be instantly absorbed by skin, balancing and moisturizing to recovering dryness.


#5 - EBOOK & 100% SATISFACTION GUARANTEE

Ebook "Can't Keep My Eyes off You – The Secrets to grab attention and attract your date". 100% satisfactory guarantee.
Click the below button to buy this item:


Disclaimer: This is a product review and recommendation. We do not sell this item. All inquiries, concerns, and disputes should be forwarded to the seller. Kindly visit the link above for more details.
---